Project Z Announces 2022 Lineup With SVDDEN DEATH, Flux Pavilion, + More
| April 19, 2022
The sixth annual Basscon and Bassrush showdown is quickly approaching. This year's Project Z will be hosted at the NOS Events Center in San Bernardino on July 2, 2022. The combative cyberpunk theme centers around the competition between the record labels' antithetical genres: bass music versus hardstyle. Basscon and Bassrush each compile their own lineup to showcase on separate stages, and attendees decide which team to support. Insomniac was especially ecstatic to announce the 2022 iteration of the event with its drastic expansion adding two more stages to the usual. It is suspected that Bassrush and Basscon will each have two dedicated stages, with one "Area Z" stage, commonly featuring an aggregation of other genres.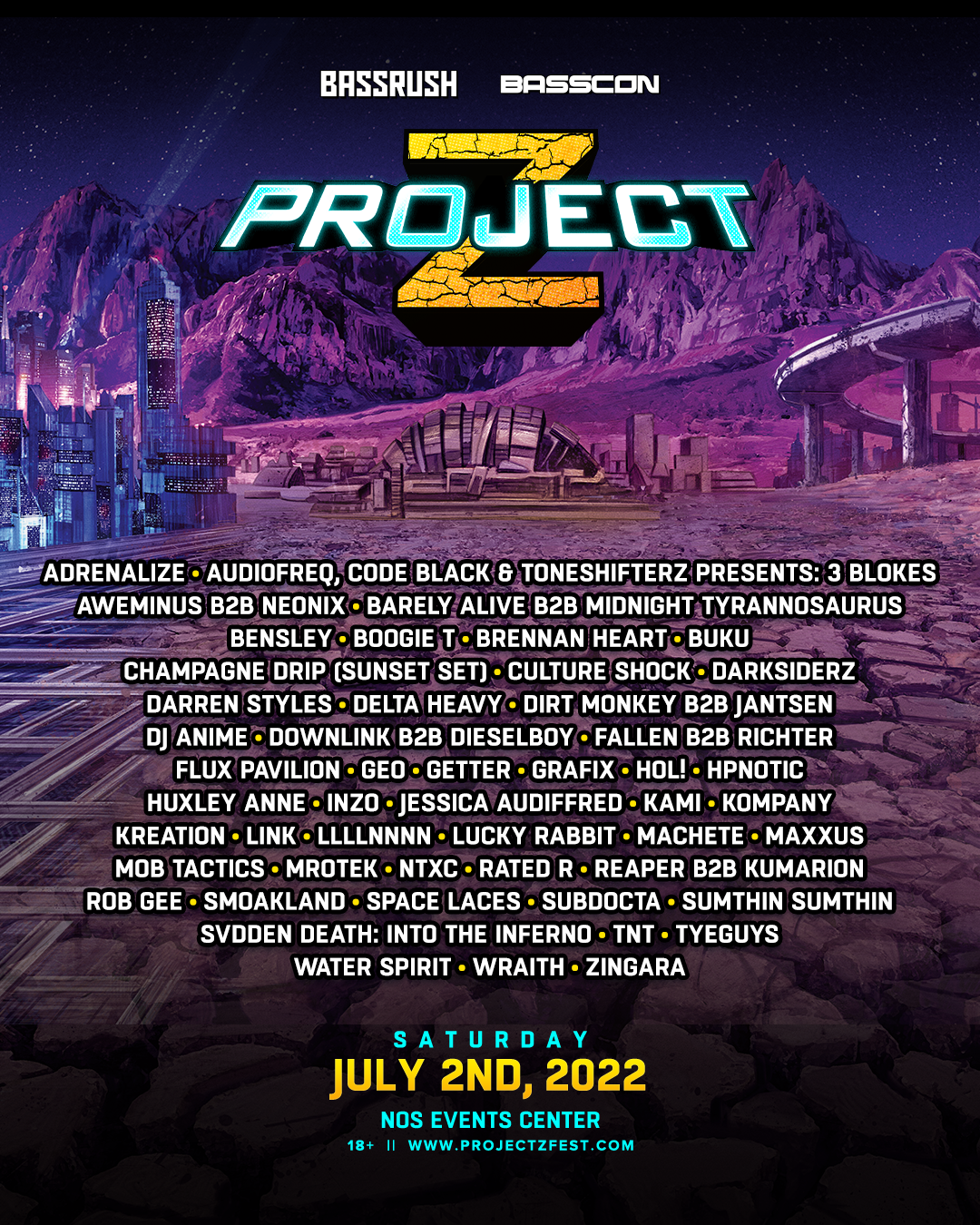 This upcoming lineup has been promoted as one of the best yet. Although the artists have not been publicly assigned to a team yet, many can be assumed based on their production style. The 2022 group of talent displays more variety than previous years, which is less expected for this particular event. Bassrush is coming out strong with both well-known and niche talents within the dubstep sphere, as well as rarely seen B2B sets. Solo acts include Flux Pavilion, Kompany, Space Laces, HOL!, and SVDDEN DEATH Presents: Into the Inferno, which has yet to debut. Legendary B2B sets consist of Barely Alive B2B Midnight Tyrannosaurus, Aweminus B2B Neonix, and Dirt Monkey B2B Jansten. On the other side, Basscon has adequately matched Bassrush's heavy-hitters with a stacked set of artists who are certain to contribute sensational energy. The hardstyle lineup will exhibit Audiofreq, Code Black and Toneshifterz Presents: 3 Blokes, Darren Styles, Rob Gee, and many more. The fifth stage is likely to host a conglomerate of talents who do not distinctly fall into either category, such as Getter, INZO, and Delta Heavy.
By virtue of both fanbases of bass music and hardstyle being exceptionally passionate, Project Z is expected to be a legendary event. Although the competition is fierce, the festival is consistently a hub for a kind, inclusive, and energetic crowd. Hardstyle and dubstep listeners are eager to attend Insomniac's notorious rivalry, and subsequently support their favorite artists.
Tickets are on sale now starting at $65 for General Admission and $130 for VIP Enhanced Experience Passes, which include expedited entry and access to private viewing areas, exclusive bars, and private bathrooms. Project Z is an 18+ event.
Check out the full Project Z 2022 lineup below.
Photos Courtesy of Project Z
Stay up to date on the latest festival announcements and music news HERE!
Get ready for festival season with iEDM apparel and accessories. Check out the latest rave wear arrivals HERE!